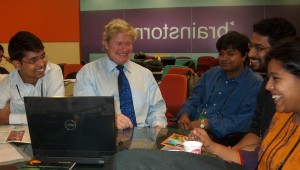 I've just arrived in Mumbai, a vibrant, bustling city, and part of my mandate is to teach Global Presentation Skills.
Mumbai surely bustles – I'm unsure of the meaning of "bustle," but if there is such at thing, then it is surely happening here.  I found myself bustling across 5 lanes of traffic at Sion Circle today, in fact.  Caught in the seasonal monsoons on my way to  . . . well, at that point, to buy an umbrella.
And then back to my room to prepare my seminar:  Global Presentation Skills  
The seminar is brilliantly titled to indicate its content and purpose.  In fact, I brilliantly titled it myself.
It encompasses the notion that presenting to foreign audiences can be an infuriating process, especially for those business folks relatively inexperienced in dealing with the foreign business cultures.
As your perspicacity tells you, this is a seminar designed to aid businessmen and business students in emerging markets to craft business presentations that follow the contours of the local business culture.  I've delivered Global Presentation Skills to firms in Colombia and to groups of Middle Eastern businessmen to what I've heard called "much acclaim."
And as an untapped area rich with potential for competitive advantage, it's one reason for my presence in Mumbai.  To work with Indian businessmen keen on international expansion.
What's the benefit of Global Presentation Skills?
Americans can be pesky audiences at best, especially for non-westerners.  Why not gain an advantage over competitors in selling to the American market?  Global Presentation Skills are a greatly neglected link in the chain of selling?  Lots of shrewd folks are saying "Why not, indeed?"
Cultural stereotypes may be ingrained in the American psyche through popular culture and news reports.  Global Presentation Skills helps businessmen surmount communication difficulties that can arise from American misunderstandings of foreign cultures.
Moreover, in a kind of reverse aikido, it helps turn perceived negatives into positives.  Global Presentation Skills can turn self-perceived weaknesses into strengths and transform stereotypes into launch-points for winning presentations.
So now I return to preparing for my Global Presentation Skills utilizing my three Ps – Principles, Preparation, and Practice.
Yes, I practice what is preached on my blog . . . and I hope to deliver an especially powerful presentation.
For more on Global Presentation Skills, consult The Complete Guide to Business School Presenting.