In our battle to fight through the white noise of life to communicate with others, we often ignore the most powerful of weapons at our disposal – Business Presentation Passion.
Passion, Emotion, Brio, Energy
Sure, we pay occasional homage to emotion and to "passion."
But more often than not, it's only lip service.
You don't really believe this stuff, do you?  Or maybe your fear of others' judgments pushes out thoughts of investing your talks with something interesting.
We save our presentation passion for other activities.  For our sports teams and our politics and, perhaps, religion.  We separate our "real" selves from our work and from our "formal" exposition in front of an audience.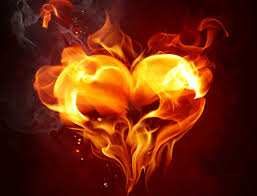 Maybe we construct a barrier for the audience, to prevent an audience from seeing our vulnerabilities.  Perhaps we affect an air of nonchalance as a defensive mechanism.
Regardless of the reason, by not investing ourselves in our presentation and in our narrative, we render ourselves less persuasive.
If we purge our Business presentation passion, we are less effective, perhaps even ineffective.
Nonchalance is the Enemy
Emotion is a source of speaker power.  You can seize it.  You can use it to great effect.
And you can learn to do this more easily than you imagine.
James Albert Winans was a Presenting Master early in the 20th century, and he offered this beautifully crafted description of passion's power.  Brilliant discovered words from 1915:
A speaker should feel what he says, not only to be sincere, but also to be effective.  It is one of the oldest of truisms that if we wish to make others feel, we ourselves must feel.  . . .   We know we do not respond with enthusiasm to an advocate who lacks enthusiasm.  And quite apart from response, we do not like speakers who do not seem to care.  We like the man who means what he says.
Do you mean what you say?  Do you even care?  Or do you sleepwalk through your assignments?  Reading from a note card, reading from the slides behind you, oblivious to why you are up there?
Now, one purpose of this counsel is not simply for you to display powerful emotions in service to a cause.  You are not simply "being emotional" for its own sake when you incorporate business presentation passion into your show.
You want to evoke emotions in your audience.  You want them to think, yes, but you also want them feel.
You want to establish a visceral connection with your audience.
Don't Purge Business Presentation Passion
Sometimes it may seem as if you must purge all emotion from your presentations, especially your business presentations.
It's as if you are instructed to behave like a robot under the guise of looking "professional" or "business-like."
We can find that we respond too readily to these negative cues.  We think that if A is "good," then twice as much of A is twice as good.  And three times as much of A is even better.
And without presentation passion, our business presentations suffer.
So, let's accept right now that emotion and professionalism are not exclusive of each other.  Conversely, shun indifference.
The opposite of earnestness is indifference. An indifferent man cares no more for one thing than for another. All things to him are the same; he does not care whether men around him are better or worse. . . .  There are other opposites to earnestness besides indifference. Doubt of any kind, uncertainty as to the thought or to the truth, a lack of conviction, all these tend to destroy earnestness.
You know the indifferent man or woman, delivering a presentation that obviously means nothing to him or her.  Perhaps you've done this.
Haven't we all at one time or another?
Unknowing of emotion, believing that we cannot show we care?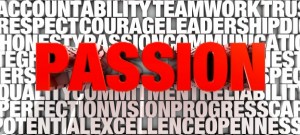 Do you just go through the motions?  I understand why you might cop this attitude.  Layer upon layer of negative incentives weigh down the college student.
Adding to your burden is the peer pressure of blasé.
It's perceived as "uncool" to appear to care about anything, to actually do your best.  Certainly to do your best on schoolwork of any kind.
Understand from this moment that this is wrong.  No, it is not a matter of opinion . . . it is not a "gray area."  It is incontrovertibly wrong.
If you don't care, no one else will.  And if you don't care, you will lose to the presenter who does care.
Lose the job you want to someone else.
Lose the contract you want to someone else.
Lose the promotion you want to someone else.
Lose the influence you want to someone else.
Win with Business Presentation Passion
Does this seem too "over the top" for you?  Of course it does!
That's because you've likely been conditioned to look askance at the kinds of rich, lusty pronouncements that embrace emotion rather than scorn it.
And that is a major part of the B-School Presentation Problem.
When was the last time a business professor criticized you for showing too much emotion in your presentation?
Have you ever heard anyone criticized for it?  For giving a presentation with too much feeling?  Or for being too interesting?
For actually making you care?  For actually being memorable for more than a few moments?
Now, think for a moment of the incredible power that might be yours if you embrace emotion and Business presentation passion when no one else does.
The wonder and delight of this is that it is entirely within your grasp to do so.
More on presentation passion and personal competitive advantage here . . .