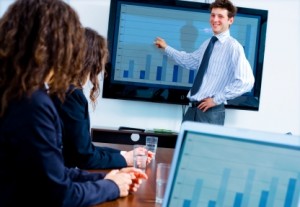 I often judge presentations in business case competitions, and I never fail to be impressed at the high caliber of students competing.
Versed in the intricacies of wealth-building and savvy in the ways of Wall Street, the next generation of business leaders is well-armed for the competitive battles of tomorrow.
And case competitions are the way to display those skills.
Case Competitions Worldwide
In my last post, I described the crucible of case competitions and how they can lead to increased opportunities in the business world.
If it interests you (and it always interests the best), then review this site that was recently passed to me.  Appropriately enough, it's called www.studentcompetitions.com, and its motto says:  Compete. Show Your Skills. Get Awarded.
The site features a constantly updated database of student  competitions worldwide.  As of this writing, 334 contests and competitions are listed.
So if you are serious about bringing to bear all of your business acumen in a public demonstration of your abilities to collaborate across a range of sub-disciplines in business, then go now to http://studentcompetitions.com and see what awaits you.
No Time for Modesty or Mediocrity
The Case Competition is your chance to demonstrate a wide range of corporate business skills in a collaborative effort.  You receive recognition, valuable experience, sometimes monetary reward, and perhaps an open door to corporate employment.  The competition is a showcase for your skills.
You can also win anywhere from $1,000 to $75,000 in a single business case competition.
Click for more information on how to deliver Especially Powerful Business School Presentations and learn the key secret techniques of how to win the business case competition.