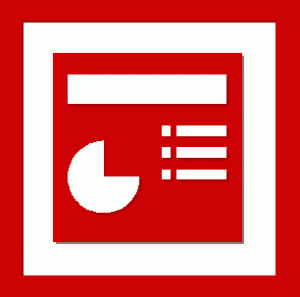 Microsoft's PowerPoint multimedia software has gotten a bum rap, and this unfair reputation springs from the thousands of ugly presentations given every day from folks who don't know how to work with PowerPoint.
And yet, PowerPoint is a brilliant tool.
Yes, brilliant.
But just as any tool – say, a hammer or saw – can contribute to the construction of a masterpiece . . . or a monstrosity, PowerPoint can contribute to the creation of an especially powerful presentation.
Or it becomes the weapon of choice to inflict yet another heinous public-speaking crime on a numbed audience.
Good Work with PowerPoint a Necessity
PowerPoint isn't the problem.  Clueless presenters are the problem.
So just how do you use PowerPoint?
You can start by consulting any of several PowerPoint experts who earn their living sharpening their own skills and helping other to hone theirs.
Folks such as Nancy Duarte, who has elevated PowerPoint design to a fine art.  You can subscribe to her newsletter here by scrolling to the page bottom and signing up.  You can also enjoy her supremely interesting blog here.  She's done all the heavy lifting already – now you can take advantage of it.
Garr Reynolds is another giant of the PowerPoint kingdom, and his concepts approach high art without being too artsy.
Meanwhile, if you want immediate help on-camera, do have a look at my own short video on how to work with PowerPoint.  It is enough to get you started and, I hope, whet your appetite for more instruction.
For once you create those marvelous slides inspired by Nancy and Garr . . . you then must use them properly in a ballet of visual performance art called a business presentation.
This short video reviews several of my own techniques that provide basic guidance on how to work with PowerPoint.
Have a look-see . . .