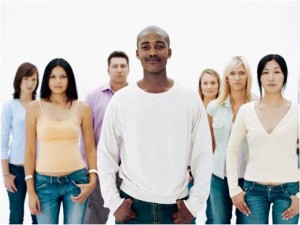 Four of the most dreaded words in Business School are:  "Break yourselves into groups."
The group presentation in business school is so ubiquitous now that almost every upper level course has some form of "group work" requirement.
There's good reason for it – industry expects new hires to have experience working in groups.
More than that, corporate America craves young people who can work well with others.  Who can collaborate.
The upshot is that you must give the "group presentation."
ots of them.
Don't Scorn the Group Presentation
You find all sorts of problems in group work.  Perhaps you believe these challenges are external to you?  Others cause problems.  Surely you must not be contributing to the challenges facing your group?
The uncomfortable fact is that we might be the cause of friction and not even know it.  Working in a group requires patience.  It requires the ability to see the benefits of collaboration, to listen, to understand that there are many ways to attack and resolve challenges.
Sure, you want to work by yourself.  Who wouldn't?
But today's complex economy disallows much of the solitary work that used to occupy executives just a generation ago.  Complex problems require collaboration.
So we face challenges.
Let's try to understand and overcome these challenges before they get out-of-hand.  In this interview, I address some of the dynamics of dealing in groups, particularly as a leader.
While the group presentation might not be your idea of the ideal weekend getaway, mastering its difficulties can transform you into a superb young executive, sought-after by recruiters.  Pledge yourself to understand group dynamics.  Learn the pinch points.  Listen to others.  Cultivate patience.
For more on how to deliver a powerful group presentation, consult The Complete Guide to Business School Presenting.