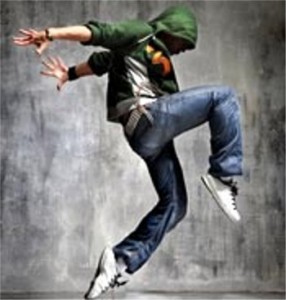 Some of the worst presentation advice I've ever heard given someone is this . . .
"Move around when you talk."
That's it.  Nothing else.
This smacks of oral tradition and myth posing as wisdom.
"Move around when you talk."
How Do You Move During a Business Presentation?
As with most myths, it's based in a tiny kernel of truth.  Maybe you should "move around" when you talk.
How should you move?  We know we should.  But how?
Specifically, how does this advice help anyone to become a better presenter?  Do we roam aimlessly about the stage?  Do we roll our shoulders in isolation movements?
Do we shuffle to-and-fro?
Aimless and purposeless movement is worse than no movement at all.  The late Steve Jobs was infamous for his aimless roaming.
But wait!  Didn't Steve Jobs "move around" when he gave his famous Apple product launch keynotes?
Indeed he did!  But you don't have the luxury of a worshipful audience of 5,000 fanatics clamoring to see the latest technology that you plan to introduce.  You do not have 35 years of political and business capital carefully cultivated and primed.  You are not a billionaire celebrity CEO.
So you cannot learn how to move during a business presentation from a charismatic billionaire celebrity CEO who wields incredible power.
What you Do Have . . .
What you do have is the power to incorporate purposeful movement into your presentation.  When you do, you will find your presentation gains power and impact.  You make your points with vigor and confidence.
And your audience responds with the same passion that you invest.
In the video below, I suggest incorporating movement into your presentation in specific ways that enhance the power and impact of your message.  [To watch directly on Youtube, click HERE]
For more insight on how to move during a business presentation for power and impact, consult The Complete Guide to Business School Presenting.