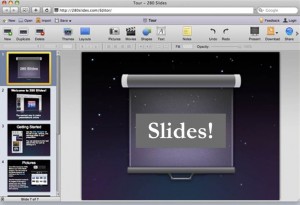 My PowerPoint slides are proprietary.
I spend lots of time on them.  They have a latticework of subtle animations and overtones that bulk out the size of the file, and I practice with them a great deal to make their presence an organic part of what the audience experiences.
It takes a long time to make slides unobtrusive, you know that, right?
You should.
All of which is why my own presentations may seem to carry a bit more heft than the norm.  And so should yours.
PowerPoint slides constitute my intellectual property.  Not the specific information contained on them, although some of the unorthodox ways I present it could be considered original.
No PowerPoint Slides for You!
The slides themselves are my IP, and often I must refuse well-meaning requests for a "copy of your slide deck" as if it is just something I hand out to passersby, a sort of shareware.
In fact, some folks actually expect to get a copy of my presentation's slides, which indicates to me how far down that sorry road we have come . . . the presentation is just a formality, really just a formal group slide reading.
Why pay attention if you'll get a copy anyway?
Uh . . . no.
I believe that this strange tradition of passing out copies of presentation slides just prior to a talk was launched because most presentations feature slides that are virtually unreadable on the screen.  They feature dense blocks of text that assault audience sensibilities.  Hence, the tail began wagging the dog, as unreadable slides required that hand-outs be supplied so that something could be intelligible.
This, of course, has led to mind-numbing presentations, where folks in the audience shuffle and rattle paper constantly as they "follow along."
If your audience cannot "follow along" with your presentation, the solution is not slide hand-outs.  You have a big problem presenting, and the solution is presentation training.
Stop the Paper-Shuffle!
The slide presentation, ideally, should not be a review source for an audience.  Another document should be prepared for audience review and for take-home, touching on the major points of the presentation and prepared in suitable format.
So when I receive requests for my slides from my shows on presentations, I point people in this direction.
This source has everything I talk about in my seminars . . . and more.  Much more.
More detail, more gravitas, more examples.
And it's designed to be read at home to help you develop an especially powerful presentation.
No, you can't have my PowerPoint slides . . . but you can have this.