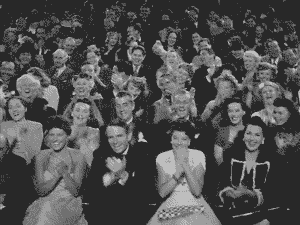 Do you face a listless, distracted audience?
Are your "listeners" checking iPhones every few seconds?  Texting?  Chatting in side conversations?
Do they sit with glazed, far-away looks?
The problem is probably you.
No way are you delivering on what should be a passionate, especially powerful presentation.
Your Presentation Audience Needs You to Be . . .
In this video interview with Concentrated Knowledge Corporation's Executive Insights Program, Andrew Clancy quizzes me on how to connect with an audience that seems disconnected and disinterested in what you have to say in your business presentation.
Here, I identify a remedy for you – how to hook and reel-in an errant audience.  Here is what you need to be for your audience.  It isn't your listeners' fault if you're monotonous, unprepared, listless, nervous, or dull.  It's your job to entertain and energize your audience with your own enthusiasm.
Giving a business presentation is much more than just showing up in front of your long-suffering presentation audience and delivering a stilted talk.  Much more.
Respect your audience and work hard to dazzle your listeners.  They'll appreciate it more than you know.
In addition to giving you solid counsel on your audience, I also suggest how you can energize your presentation by discarding one of the most common speaking crutches and by moving into the Command Position.
It's not easy, but you can do it with several techniques developed over centuries of public speaking practice.
Please overlook my bad hair day in this video as you take in this powerful advice on How to Engage With Your Presentation Audience for an especially powerful presentation.
Have a look . . .