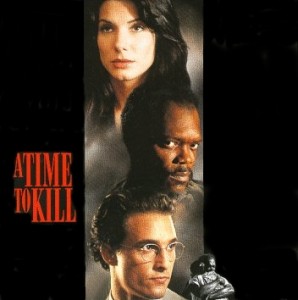 We all believe that we should weave a business presentation story.
Sort of.
But most of us rarely do, and this might be a result of simply not knowing how.
Admit it . . . most of us think we're pretty sharp – we all think we know what a story is, don't we?  But do we really?
What is a Presentation Story?
A story is a narrative of events, either true or untrue, that appeals to the emotions more-so than the intellect.
Let me emphasize – the appeal is primarily to the emotions.  Here's an example.
The 1995 legal thriller A Time to Kill is a superb storytelling film that exemplifies how a deep appeal to emotion and to the heart can overcome an appeal to logic and reason.
A Time to Kill is the story of the rape of a little girl and the subsequent killing of her rapists by a heartsick father and his trial for murder.  The story takes place in racially divided Mississippi and the interracial struggle for justice and understanding is the centerpiece of the narrative.
It is really several stories.  A young lawyer's struggle, Jake (Matt McCanaughy).  A father's struggle, Carl Lee Hailey (Samuel L. Jackson).  And a town's struggle for its soul.
At the end of the film, Jake tells Carl that he's going to lose the case.  That he should bargain with the prosecutor for a lesser charge to gain life in prison rather than the death penalty.
Carl rebukes his lawyer, Jake.  He urges him to "think like the jury."
Know the Audience for Your Presentation Story
This is actually one of the keenest lessons on "know your audience" that I have ever witnessed.
"You're one of the bad guys, Jake," Carl says.  "That's why I picked you.  You're one of them white folk.  You think like them.  That's why you can set me free.  Throw out all your 'points of law' and talk to them like one of them."
How does Jake respond?
He responds with the Power of Presentation Story.
Literally.
Jake prepares a closing argument without his "points of law."  He appeals to the emotions of the jury instead of their logic or sense of duty to the laws of man.  He appeals to their humanity, and to do this, he must tell a presentation story.
It must be the most compelling story of his young legal career.
Jake first apologizes to the jury for his ineptitude due to his inexperience.  He waves away any appeal to "points of law."  He pauses.  Jake then places his hand in his pocket, and he gestures with his other hand . . . gently, firmly.
He approaches the jury box.  Simultaneously, he utters the magical words, almost like an incantation.
"Now I'm gonna tell you a story."
His Words Transform the Courtroom
Everyone in the film leans forward.  The prosecutor.  The defendant.  The members of the jury.
All of them.  You feel yourself lean forward.  Perhaps you shift in your seat with expectation.
Why?
Because everyone loves a story.  A story that touches emotions.  A story that makes them laugh.
In this case, a sad and heinous story that makes them weep.
Why does Jake do this?  Because stories touch the emotions in ways that straight exposition cannot.  Jake wants the jury to feel, not just to think, and this scene of Jake pleading for his client's life is a masterful demonstration of story's power.
The armor we wear against fact and logic is porous and vulnerable to the gentle probing of a story.  As Jake weaves his spellbinding and horrible story of rape and trauma, the stolid men and women of the jury begin to crumble.  Eyes glisten.  Hard swallowing.
Even the most callous and racist man on the jury is affected by Jake's tale.
Perhaps even you are moved by the heart-rending summation.
"Let me tell you a story."
For more on how to tell a compelling corporate presentation story, consult The Complete Guide to Business School Presenting.