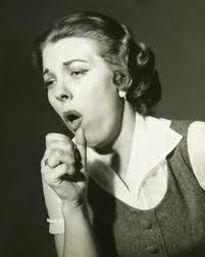 Stop all that metaphorical throat-clearing at the start of your business presentation.
The presentation warm up.
You know exactly what I mean.
All that filler you pump into your business presentation at the beginning.
Somewhere, someone came up with the notion that you must "warm up" your audience before you launch into the meat of your talk.
A contrivance
Someone contrived the notion that you must thank everyone from your mother to the wait staff to the United States President.
Someone concocted the notion that you must praise the locale of your talk as if you've passed through the gates of paradise.
Forget all of that.
That's nothing but throat clearing, and it's done all for you, not your audience.  You're warming yourself up to get over your nervousness.
You're uttering meaningless platitudes that no one can call you on.  So you're "safe."
You think you're safe, but you're losing your audience, numbing them.  In their minds, they're already folding their arms and yawning.
Stop the Presentation Warm Up!
Get to the point.
How?
Patricia Fripp is one of the nation's finest executive and presentation coaches.  She offers especially powerful advice on launching your presentation:
Don't be polite . . . get to the point.  [I told one client] "You're polite . . . and that's not a bad habit, but you don't have much time.  They know who you are because you've been entertaining them.  They know where you are.  Make it about them.

"When you begin, why don't you say:  'Welcome and thank you for the opportunity to host you.  In the next seven minutes, you are going to discover why the best decision you can make for your members and your association is to bring your convention to San Francisco and the Fairmont Hotel.' . . . "

You may argue that those polite opening comments are necessary because the audience is still settling down and not focused on you.  This may be true, but don't let it be an excuse.  Go to the front of the room and wait until you have their attention, maintaining a strong, cheerful gaze and willing them to be silent.  If needed, state the opening phrase of your comments and then pause until all eyes are focused on you, awaiting the rest of the sentence.
I suggest you consult Patricia often as a source for no-nonsense presentation wisdom.  She's in the National Speakers Association Hall of Fame for a reason.
And do consult The Complete Guide to Business School Presenting to resolve more speaking issues like the presentation warm up.