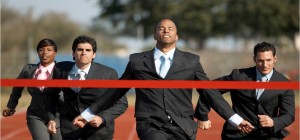 In earlier posts, we examined the lead-in steps for your case competition preparation.
Your team is now on the cusp of delivering a business presentation to win a case competition.
Recognize and accept that your presentation is a wholly different communication mode than your final memorandum or report.
Treat it this way, and your chances of case competition victory increase dramatically.
Case Competition Victory?
If your analysis is robust and your conclusions are sound, as should be with all the entries, then a powerful and stunning presentation delivered by a team of confident and skilled presenters wins the day most every time.
The competency of most case competition teams is relatively even.
If a team lifts itself above the competition with a stunning presentation, it wins.
If you have reviewed the step-by-step preparation to this point and internalized its message, you understand that you and your teammates are not something exclusive of the presentation.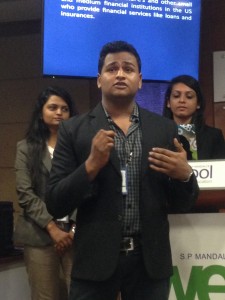 You are the presentation.
By now, you should be well on the way to transforming yourself from an average presenter into a powerful presentation meister.
You know the techniques and skills of the masters.
You've become an especially powerful and steadily improving speaker.
You constantly refine yourself along the seven dimensions we've discussed:  Stance, Voice, Gesture, Expression, Movement, Appearance, and Passion.
Apply the Seven Secrets
When I coach a team how to win a case competition, the team members prepare all of their analysis, conclusions, and recommendations on their own.
Your team's combined skills, imagination, and acumen produce a product worthy of victory.  The team then creates their first draft presentation.
It is at this point that the competition is most often won or lost.
Powerful winning presentations do not spring forth unbidden.  Or from the written material you prepare.
The numbers do not "speak for themselves."
The "power of your analysis" does not win a case competition on its own.  You cannot point to your handout repeatedly as a substitute for a superb presentation.
Your case solution is not judged solely on its substantive merit, as if the brilliance of your solution is manifest to everyone who reads it.  It's judged on how well you communicate the idea.
Powerfully.
Persuasively.
Each member of your team must enter the presentation process as a tangible, active, compelling part of the presentation.  And you must orchestrate your presentation.  Work seamlessly together with each other, with the visuals you present.
And with the new knowledge you create.
Remember that it takes much more than a handful of last-minute presentation "tips" to achieve a case competition victory at the highest level.
You can achieve personal competitive advantage in presenting.  Give it shot.
For more deep secrets on how to win a case competition, consult The Complete Guide to Business School Presenting.