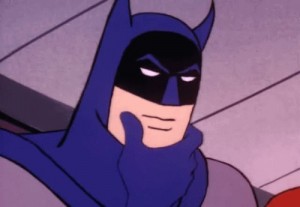 You're in the midst of an especially powerful presentation when you lose train of thought and give that deer-in-headlights stare.
That's what happens when Blank-Mind strikes.
You're on a roll, really jazzing the audience.
And then . . . your mind wanders for a brief moment.  It was just a moment, but it was enough to sabotage you.
Your thoughts grind to a halt.
You can't remember what to say.
Words fail you.
You Lose Train of Thought
Blank-Mind attacks all of us at one point or another during our business presentation career.
In fact, it happens so often that it might do us good to think ahead to how we react to this common presentation malady.
Presenters have developed trade tricks to help us past the rough spots.
Here is one stopgap solution for when you lose train of thought.
When Blank-Mind strikes, your first reaction should be a calm academic assessment of the situation – you know what's happened, and you already know what your first action will be.
You have prepared for this.
Pause.
Let silence grip the room.
Look slightly upward and raise your right hand to your chin, holding your hand in a semi-fist with chin perched and resting on your index finger and thumb – perhaps with your index finger curled comfortably around your chin.
You know the stance.
Put your left hand on your hip.  Furrow your brow as if deep in thought, which you are.
Now, while looking steadily at the floor or slightly upward at the ceiling, walk slowly in a diagonal approximately four, maybe five steps and stop, feet shoulder-width apart.
Now, assume your basic ready position and look up at your audience.
Your Bought Time
You have just purchased a good 10 seconds to regain your confidence and composure, to regain your thought pattern, and to cobble together your next few sentences.
If this brief respite was not enough to reset yourself, then shift to the default statement.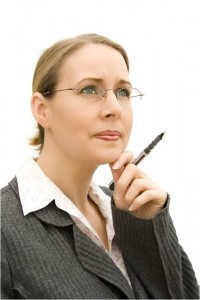 What do I mean "default statement?"
This is a rescue phrase that you craft  beforehand to get you back into your speaking groove.
It consists of something like this:  "Let me recapitulate our three points – liberté, égalité, fraternité."
Other phrases might be: "Now is probably a good time to look again at our main themes . . ."  or "We can see again that the issue boils down to the three crucial points that I began with . . ."
And then, you simply begin ticking off your three or four main points of your presentation.
In doing so, you trigger thought processes that put you back onto the correct path.
Think of this method as levering a derailed train back onto the track.
If you have prepared as you should, then it should be no more than a small bump in the road for you to lose train of thought.  A minor nuisance with minimal damage.
If you panic, however, it can balloon into something monstrous.
Remember the rescue techniques to regain your train of thought:  Chin-scratch and Default Statement.
You can control the damage by utilizing the Chin-scratch, which buys you time to reassert yourself.  Failing that, the Default Statement bails you out by taking you back over familiar material you've just covered.
If none of the above works, however, you can still stop yourself from going into total meltdown by using the two rescue words I preach to all my students . . . "In conclusion . . ."
For more rescue techniques in the toughest parts of your presentation, including when you lose train of thought, consult the especially powerful The Complete Guide to Business School Presenting.