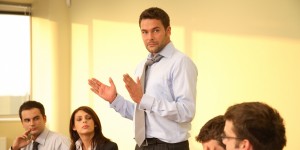 WIIFY – What's In It For You?
This catchphrase comes loaded with a freight-train of wisdom for your business presentation.  And no, it isn't about you . . . it's about your audience.
Always ask yourself this question with regard to your audience . . . from the point-of-view of your audience.
This strikes at the heart of a powerful and well-received presentation, as speaking master James Winans noted back in 1915:
"The young speaker can do nothing better for himself than to fix firmly in mind that public speaking is a dialogue and to emphasize constantly the part of the audience, anticipating and watching for its response."
This speaking basic also runs under the tag of Know Your Audience.
Know Your Audience = WIIFY?
To achieve its greatest effect, your story must focus on the needs and interests of your audience.  At its best, your presentation should focus on the deepest desires of the audience, but should do so subtly and with great skill.
Your story should fulfill a need in the audience with regard to your presentation topic and the stories you choose to illustrate that topic.
Ask yourself these questions:  Why have they come?  What is it that motivates these persons to gather in one place to hear me?  How can I speak to the audience as a group, and yet speak to each person individually?
WIIFY?  Be a Hero!
How can I make the persons in the audience feel like a hero?
The hero of your story must be in the audience.  The CEO.  The Stockholders.  Employees.
The people who are praised, instructed, lifted, motivated, excited must be the heroes of your story.
Aim your story at them and ask the question WIIFY.  Make them feel good about themselves, and they'll surely feel more disposed to feel good about your message.
Speak with them as individual people, not as a group.  They do not attend your talk as a group, so do not address them as a group.  They attend your business presentation as individuals, because they have goals and aspirations and hopes.  They hope that your talk will benefit them in some way as an individual person.
Moreover, you must understand your audience.  You must understand their wants and needs, interests and desires.
Find what motivates them.
Find what shames them.
Find the common thread among them, then speak to that common thread as they are individuals.
Build your story with WIIFY in mind.
If the idea of corporate storytelling strikes a chord with you, note that three entire chapters of The Complete Guide to Business School Presenting are devoted to the craft of business storytelling and answering the question WIIFY.