One of the biggest disappointments I experience as a presentation coach is watching potential go unrealized because of stubbornness against presentation change.
An inability to change.
A disinclination to accept coaching.
A refusal to recognize improvement is needed.
No Presentation Change . . . No Improvement
And possibly the worst tendency of all:  A proclivity to redefine what one already does as somehow acceptable rather than to change behavior in ways to become truly excellent at a skill.
This last proclivity – redefinition – pops up in the expected ways.  Unfortunately it appears quite often, especially in our current zeitgeist, which is loath to offer criticism of any sort and is equally eager to validate any behavior that carries "strong feeling."
If that "strong feeling" can be attributed to "culture" in some way, then there is almost no hope for improvement.  None.
How can there be improvement when shortcomings can be redefined as "difference," coupled with wheedling others to "respect difference."
So poor presenting is transformed into someone else's problem.  The entire audience's problem, in fact.
But What About . . . ?
Several years ago, in a lecture on "charisma," I had just related the elements of charisma to an audience.  I had given examples and had launched into a doable program of how most any speaker can develop charisma.  That's when a young woman asked me:  "What about 'quiet charisma?'"
Say what?
"You know, quiet charisma."
She was serious.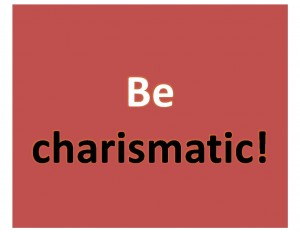 "No, I don't know," I said.
"There is no such thing.  You have something in mind, obviously, and you are attempting to describe it, certainly, but whatever else it is, it is not charisma.  Moreover, it is the exact opposite of the type of behavior we have talked about for the past 30 minutes."
The young woman wanted charisma . . . but she did not want to develop the traits of charisma.
She wanted charisma, perhaps, but she wanted it on the cheap.
She wanted to be told that what she was already doing was charisma.  She wanted to hear that her current performance was somehow "okay."
I'm okay . . . you're okay . . . we're all "okay."
She wanted me to redefine her own behavior as "charismatic" when it, in fact, was not.
This type of phony validation is all too frequent in our modern world of nonjudgmental-ism, where for some, improvement is almost an impossibility because every suggestion is viewed as an insulting challenge to someone's humanity.
And So We See No Presentation Change.  None.
Instead, the result is soothing assurance akin to the awarding of a T-Ball participation ribbon . . . to everyone, regardless of performance.
Unfortunately for the precious and rough-hewn, the business world is not as charitable as is the local T-Ball league.
The solution?
Humility.
That, and recognition that all of us can improve by embracing tested techniques, some of them proven over the course of two thousand years.  In fact, great business presenting is a journey that never really ends, because we always must try new methods while steadily sharpening our mettle on the ones we embrace.
In other words, we must be willing to change what we do to reflect acquired knowledge.
Don't seek phony validation, which is like wearing a medal for valor without demonstrating valor.  Seek, instead, the wisdom that leads to especially powerful presentation change.
For the road to especially powerful presenting, consult The Complete Guide to Business School Presenting.