Aristotle . . .
Martin Luther King . . .
Steve Jobs . . .
These three quite different men shared a respect for the power of the spoken word.
The power to deliver the persuasive presentation.
To deliver it with power and passion.
What is Rhetoric?
Twenty-three centuries ago, Aristotle gave us the means to deliver especially powerful presentations.  The best speakers know this, either explicitly or instinctively.
We all owe a debt to Aristotle for his powerful treatise on persuasive public speaking Rhetoric.
Rhetoric is the function of discovering the means of persuasion for every case.
These means of persuasion are delivered as a form of art.  Aristotle identified the three necessary elements for powerful and persuasive presentations – the ethos or character of the speaker, the attitude of the audience, and the argument itself.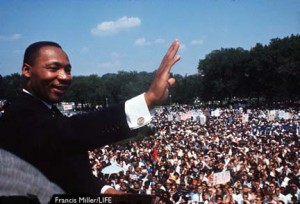 And the value of this powerful tool?
Just this . . .
Aristotle identified four great values of rhetoric.
First, rhetoric can prevent the triumph of fraud and injustice.
Second, it can instruct when scientific argument doesn't work.
Third, it compels us to act out both sides of a case.  When you can argue the opposite point, you are best armed to defeat it.
Finally, it's a powerful means of defense when your opponent attacks.
As modern college texts wallow in the fever swamp of "communication theory," Aristotle's Rhetoric offers us a crystalline tool of power and efficacy – a sure guide to the proper techniques in business presenting.
Modern Persuasive Presentations
Two men as different as Martin Luther King and Steve Jobs understood the power of rhetoric to inspire people to action.
Dr. King for the transformation of society . . . Steve Jobs for the revolutionizing of six different technology industries.
Dr. King used one particular rhetorical technique that has become the touchstone of his legacy – his repetition of the phrase "I have a dream" during his famous 1963 speech on the steps of the Lincoln Memorial in Washington, DC.
This technique is called the anaphora.
It involves the repetition for effect of a key phrase during a presentation.  Dr. King ensured that his Dream would be the emotive catalyst for action.
The anaphora is part of what Aristotle recognized as art in rhetoric and is an advantage that rhetoric has over straight "scientific" expository speech in calling people to action.
Dr. King recognized the emotive power of rhetoric.  It is this power that moves listeners to action when pure logic cannot.  It's at the heart of the persuasive presentation.
A Different Venue
Steve Jobs, too, utilized the technique for a different purpose.
A more mundane purpose – the selling of electronics.
For example:
"As you know, we've got the iPod, best music player in the world.  We've got the iPod Nanos, brand new models, colors are back.  We've got the amazing new iPod Shuffle."
The anaphora is just one example of an especially powerful rhetorical technique.  It can imbue your business presenting with persuasiveness.
And there's more . . . so much more available to you.
Business Presentation expert Nancy Duarte provides a comprehensive list of 16 rhetorical devices that Jobs used for his business presentations.  Devices that you can use as well.
When we understand the power of rhetoric and how that power is achieved, it transforms us into more capable and competent business presenters.  And it can yield an especially powerful and persuasive presentation as we build our personal competitive advantage.
Perhaps not as transcendent as Dr. Martin Luther King's, but certainly especially powerful and persuasive presentations in our own bailiwicks.
For more on the persuasive presentation, consult The Complete Guide to Business School Presenting.