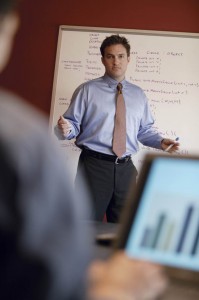 To develop and deliver an especially powerful finance presentation, follow this formula:
Orient …
Eliminate …
Emphasize …
Compare . . .
This method produces superb results every time, especially if you work with difficult financial information.
As preface to this, on all of your slides, ensure that you use a sans serif font and that its size is at least 30 point.
Your numbers should be at least 26 point.
Now, to those four key words . . .
For a Powerful Finance Presentation
First, orient your audience to the overall financial context.
If you take information from a balance sheet or want to display company profit growth for a period of years, then briefly display the balance sheet in its entirety to orient the audience.
Tell the audience they view a balance sheet:  "This is a balance sheet for the year 2012."
Walk to the screen and point to the information categories.  Touch the screen.  Say "Here we have this number" . . . "Here we have this category."
Second, eliminate everything on the screen that you do not talk about.
This means clicking to the next slide, which has been stripped of irrelevant data.  If you do not refer to it, it should not appear on your slide.
Strip the visual down to the basic numbers and categories you use to make your point.
Sure, put the entire balance sheet or spreadsheet on your first slide, orient your audience to provide the context of the numbers you are about to emphasize, and then click to the next slide.
This next slide should display only the figures you refer to.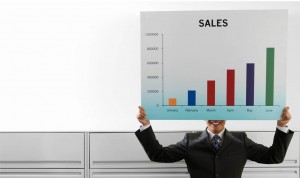 Third, emphasize the important points by increasing their size, coloring them, or bolding the numbers.
Illustrate what the numbers mean by utilizing a chart or graph.
Fourth, compare your results to something else.
Remember that numbers mean nothing by themselves.  Comparison yields meaning and understanding.
For example, think of a children's dinosaur book.
Compare, Compare, Compare
You've seen the silhouette of a man beside a Triceratops or a Stegosaurus, or a Brontosaurus.  The silhouette provides you a frame of reference so you understand the physical dimensions of something new and strange.
You can compare the size of a man with the new information on dinosaurs.
Likewise, we want to provide a frame of reference so that our audience understands the results of our analysis.
We provide a comparison as a baseline.
For instance, if you are talking about financial performance, and you have selected an indicator (such as ROI, or yearly sales revenue growth, or something similar), don't simply present the information as standalone.  Compare your company's financial performance against something else.
Do this to make your point and to tell your story.
Compare your firm's financial performance against itself in prior years or quarters.
Compare your firm's financial performance against a major competitor or several competitors.
Compare your firm's financial performance against the industry as a whole.
Compare your firm's financial performance against similar sized firms in select other industries.
When you Orient . . . Eliminate . . . Emphasize . . . and Compare, you create a finance presentation experience that is intelligible and satisfying to your audience.
And you create for yourself a personal competitive advantage.
For more on delivering powerful finance presentations, consult The Complete Guide to Business School Presenting.