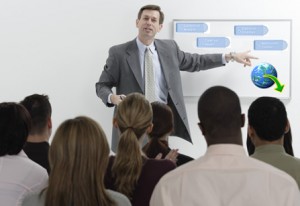 One of the country's finest presentation coaches, Carmine Gallo, offers this interesting contribution to what we know about effective presentations . . . let's call it PowerPoint Superiority.
The upshot of his Forbes column is that "PowerPoint superiority" by way of pictures is a "new" style of presenting.
I'm delighted that Carmine urges the corporate community away from the heinous habit of cluttered and wordy PowerPoint slide presentations.  But he misses the mark on why this is an effective mode of presenting . . . and why it needs considerably more effort than merely posting happy snaps on the screen as a backdrop.
Here's why . . .
PowerPoint Transformation . . .
Carmine makes an important observation, but he leaves out the utterly crucial point that it is the presenter who must change for the slide change technique to work at all, much less result in an especially powerful business presentation.
Without a significant shift in mindset and activity of the presenter, just altering what's on the slides is nothing more than cosmetic.
You must dedicate yourself to change and the generation of positive energy.  Not submit to the easy lure of "making great slides," which won't help you at all if you continue to engage in bad habits.
How a speaker sounds, moves, gestures, stands, and expresses herself or himself is absolutely the most important congeries of techniques that makes or breaks a presentation.
When a presenter moves from cluttered bullet-point slides to high-impact visuals, the technique of the presenter must change as well.
Many posts on this blog address the aspects of voice, expression, gesture, appearance, stance, passion, and movement.  I address all of these and much more in my new book The Complete Guide to Business School Presenting available from Anthem Press, Amazon.com, and bookstores everywhere.
Take to heart Carmine's advice, but also pledge to transform yourself accordingly so that his advice on PowerPoint Superiority makes sense.