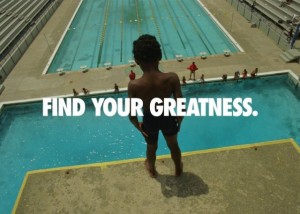 Nike developed a well-known ad campaign with the theme: "Find Your Presentation Greatness."
Well, it really didn't refer to business presentations, but it well could have, without losing much in translation.
To wit:
"Somehow we've come to believe that greatness is only for the chosen few, for the superstars.  The truth is, greatness is for us all.  This is not about lowering expectations; it's about raising them for every last one of us."
I like the positive thrust of the ad series, which places the locus of excellence inside each of us and urges us to cultivate a desire to strive and succeed, come what may.
The Hard Truth . . . Our Greatest Enemy
Key in this is often the hard truth that often we can be our worst enemy when it comes to achieving success.
Business presenting can be like that.
More often than not, the biggest obstacle to delivering a superb presentation is our self-doubt and fear of failure.  This can stymie the best of us.  It can result in half-hearted efforts that give us an "out" when we flop.
"I wasn't even trying," we can say with a shrug.  And thus spare ourselves the ignominy of putting our heart and effort into a presentation, only to have it "fail."
The exasperating truth in this is that we need not fear failure.  Or even a job poorly done.  If we invest our minds and hearts in the right kind of preparation, we need not ever "fail" at delivering serviceable, even fantastic, presentations.
We all have the tools.  We all have the potential.  We can all give a great presentation.
But . . . the Path to Presentation Greatness?
But it requires us to do the most difficult thing imaginable, and that is actually change the way we present.  This may seem obvious, but it's not.
Many folks think that a great presentation exists somewhere outside themselves – in the software, in the written notes, in the prepared speech, in the audience somewhere.
The thought that we must step outside our comfort zone and actually adopt new habits while shedding the old ones is . . . well, it's daunting.  And I hear every excuse imaginable why it can't be done.  Usually having to do with "comfort."
"I'm just not comfortable with that."
Of course you're not "comfortable" with that.  You're comfortable with your old bad habits.  That's what "habit" means.
These are new habits of superb presenting, and when you adopt them as your own, you become comfortable with them.  When you do, you will be on your way to your own greatness.
You'll be on your way to delivering especially powerful presentations.  Great presentations!
To further your journey to delivering great presentations, consult The Complete Guide to Business School Presenting.