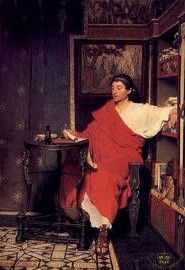 Quintilian was the greatest presentation coach to ever stride the streets of Rome during the reigns of Nero, Vespasian, Titus, Domitian.
And Rome had quite a few presentation coaches at the time, because public speaking – oratory – was considered an art.
But Quintilian was the undisputed master of the 1st Century, and he penned one of the most important presentation works in all of history.  It was published in approximately 95 AD and was called . . .
The Institutes of Oratory.
But like so many literary works in the ancient world, it all but disappeared in subsequent centuries as the dark ages engulfed Europe.  Only fragments remained . . . and the legend of Quintilian.
Lost to History?
It was thought lost forever . . . but a Benedictine monk by the name of Poggio Bracciolini discovered a complete manuscript of Quintilian in a dungeon at the Abbey of St. Gall 13 centuries later in present-day Switzerland.
Bracciolini had established a reputation as a master copyist.  He was elated to have discovered the ancient manuscript, and he wrote to a friend about his find in the year 1416.
There amid a tremendous quantity of books which it would take too long to describe, we found Quintilian still safe and sound, though filthy with mold and dust.  For these books were not in the Library, as befitted their worth, but in a sort of foul and gloomy dungeon at the bottom of one of the towers, where not even men convicted of a capital offense would have been stuck away . . . .  Beside Quintilian we found the first three books and half of the fourth of C. Valerius Flaccus' Argonauticon, and commentaries or analyses on eight of Cicero's orations by Q. Asconius Pedianus, a very clever man whom Quintilian himself mentions.  These I copied with my own hand and very quickly, so that I might send them to Leonardus Aretinus and to Nicolaus of Florence; and when they had heard from me of my discovery of this treasure they urged me at great length in their letters to send them Quintilian as soon as possible.
Today, the manuscript that Poggio found still exists and is housed in Zürich's Central Library.
Why should we care about Quintilian except as an historical figure?  What could he possibly say to us of worth?
Timeless Secrets
Presenting hasn't changed in 2000 years.  Not really.  It's still a presenter before an audience.  The good news is that Quintilian solved for us almost every pathology that plagues the modern speaker.
His work influenced orators for centuries and, through the adoption by the great rhetorician Hugh Blair in the 19th Century, continues to influence us today in ways we are completely unaware of.
Here is a small sample of the wisdom of Quintilian, this from Book 7.
Let him who would be an orator be assured that he must study early and late; that he must reiterate his efforts; that he must grow pale with toil; he must exert his own powers, and acquire his own method; he must not merely look to principles, but must have them in readiness to act upon them; not as if they had been taught him, but as if they had been born in him.  For art can easily show a way, if there be one; but art has done its duty when it sets the resources of eloquence before us; it is for us to know how to use them.
The treasures housed in the Institutes of Oratory are vast.  It remains only for us to delve into this trove of wisdom to pluck the nuggets that can transform us into . . . well, into much better presenters than we are today.
In fact, if Quintilian would have his way, he would transform you into an especially powerful presenter, worthy of pleading from the law courts of ancient Rome to the boardrooms of modern New York City.