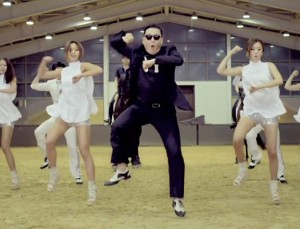 Here's a presenter who carefully follows the Three Ps of business presenting and quite obviously succeeds at his performance in a Gangnam Style Presentation.
The Three Ps, of course, are:  Principles . . . Preparation . . . and Practice.
The presenter calls himself Psy.
In this Gangnam Style presentation, Psy engages the Seven Secrets of presenting – the principles of Voice, Expression, Gesture, Appearance, Stance, Passion, and Movement – for a stunning performance.  Note that the acronym formed by those seven words is appropriate to this particular presentation:
VEGAS PM.
Applying the Three Ps
Moreover, while Psy exhibits incredible professional presence, he doesn't rely solely on his charisma to carry his presentation.  He and his support team prepared meticulously for this performance, and they've obviously practiced much.
The presenter engages his audience, gives them exactly what they expected to receive, and encourages audience participation.
He exhibits tremendous focus on his main point, repeating his main point several times so that it isn't lost – otherwise known as his song's chorus – and he uses the same repeated choral movement to emphasize visually his song's chorus.
View this Gangnam Style Presentation with these precepts in mind.
The comparison to superb business presenting is by no means a reach.
When you present, you give your audience a show.  Accordingly, you should prepare your show according to principles almost identical to those used by any stage performer.
You might not expect the kind of crazed enjoyment of your business presentation exhibited by the audience in the video (and I congratulate you if you achieve it).  But you can apply the precepts of presenting to meet your audience expectations, engage your listeners, and drive home your main point with repetition and focus.
Deliver a Gangnam Style Presentation
You can thoroughly prepare and practice your presentation, just as any worthy stage performer does.  Respect for your audience and your message demands no less than that you employ the Three Ps of business presenting.
Do this consistently, and you increase your personal competitive advantage tremendously as someone known for capable and competent business presenting.
For more on Gangnam Style business presenting, consult The Complete Guide to Business School Presenting.