The business case competition puts you in front of Corporate America in naked competition against the best students from other schools.
No hiding behind a resume.
No fast-talking a good game.
No "national rankings."
Just pure performance that puts you in the arena under lots of pressure.
Business Case Competition as Crucible
In case competitions,  your business team delivers a business presentation in competition against other teams in front of a panel of judges.
Teams display how quickly, thoroughly, and skillfully they can ingest a case, analyze it, and then prepare their conclusions.
They then present their recommendations to a panel of judges.
Business case competitions vary greatly in the details, but they do have a standard format and purpose.  The idea behind such competitions is to provide a standard case to competing teams with a given time limit and then to rate how well the teams respond.
There is, of course, no direct competition between teams.  Rather, each team is judged independently how well it handles the assigned case and presents its analysis and recommendations.  There is a time limit and specific rules.
All teams operate under the same conditions.
Business Case Competitions Far and Wide
Competitions can be internal to the Business School or involve teams from several different schools.
Sometimes there are several rounds of competition, with the final round typically judged by outside company executives.  The teams prepare a solution to the case and deliver a written report.
Teams then prepare a presentation of their analysis and recommendations and deliver the timed presentation before a panel of judges.
The judging panel sometime consists of executives from the actual company in the case.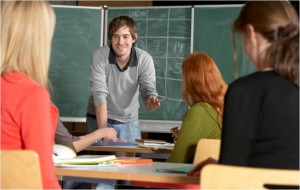 The University of Washington's Foster School of Business is good about this in its renowned Global Business Case Competition.  Twelve to fourteen schools from around the globe compete in this week-long event.  Its 2013 competition featured a case on Frog's Leap Winery, which is known for its commitment to sustainability.
Frog's Leap Winery produces high quality wines using organically-grown grapes and was a leader in adopting an environmental management system for production.
The competition teams, which act as outside consultants, were asked to make recommendations in three areas:   (1) the next sustainability initiative that Frog's Leap should undertake, (2) identification of two potential markets outside the US, and (3) marketing plans for those new markets.
With 48 hours to craft a case solution and presentation, Concordia University won that 2013 competition against a range of international competing universities.
Testing Your Mettle
One excellent aspect of case competitions that are judged by outsiders is that they provide a truer indication of the competitors' mettle.
For the most part, they are far removed from the internal politics of particular institutions, where favored students may receive benefits or rewards related more to currying favor than to the quality of their work.
In some competitions, additional twists make the competition interesting and more complicated.
For instance, Ohio State University CIBER hosts an annual Case Challenge and creates teams from the pool of participants (i.e., members will be from different schools) instead of allowing the group of students from each school to compete as a team.
In this case, once students are assigned to teams, there is a day of team-building exercises.
The key to doing well in case competitions is to differentiate yourselves beforehand.  This is much easier than you might imagine.  Start with the Three Ps of Business Presentations.  They provide a steady guide to ready you for your competition.
Principles . . . Preparation . . . Practice.
In subsequent posts, we deconstruct the business case competition to help you and your team prepare to your potential and deliver an especially powerful presentation.
You can also learn the entire process of preparing to win business case competitions from The Complete Guide to Business School Presenting.