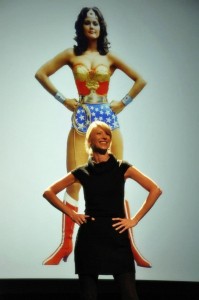 Anyone who has come to this space for any length of time knows that I extol the work of Dr. Amy Cuddy in helping us to learn power posing for our business presentations.
Her now-famous 2010 Harvard study of MBAs demonstrates conclusively that we can, indeed, control our emotions to a certain extent with regard to our delivery of business presentations.
In short, we can make ourselves feel confident and powerful . . . just by striking a powerful pose.
This is heady stuff, and Dr. Cuddy herself explains the process in the video below.
Power Posing Works
Dr. Cuddy's findings are revolutionary to the extent that she substantially confirms a theory of emotions developed more than a century ago and since discarded for supposedly more au courant notions.  Psychologists William James and Carl Lange conceived of a new way of understanding our emotions and how they work.
They reversed the prevailing dynamic this way . . .
We generally believe that our emotions affect our body language, and we ourselves have experienced the effects of stage fright.
Emotions influence the way you stand, the way you appear to your audience.
So if we feel stage fright and lack of confidence, our body language telegraphs that, and we get caught in a downward spiral of cause-and-effect.
But what if we could reverse that cause-and-effect?
What if we could engage in power posing and create our own confidence?
Power Posing can Create Confidence?
Impossible, eh?
But James-Lange Theory suggests that very thing, that you can reverse the process.
And Dr. Amy Cuddy's research proves it.  Have a look . . . 
Dr. Cuddy offers powerful instruction for us in the realm of nonverbal communication and in the area of self-motivation and inculcation of power-generating behavior.
But . . .
There are aspects of this video that are instructive in verbal communication as well.
As a caveat, lest we learn other less salutary lessons from the video, I call attention to aspects of Dr. Cuddy's unfortunate verbal delivery.
This is not to gratuitously disparage Dr. Cuddy, for I am one of her biggest fans, and I advocate her approach to power posing whenever and wherever I speak.
Let's learn a few things about verbal delivery from the video.
Three Tics to Eliminate
First, her voice often collapses at the end of sentences into a growl-like vocal fry.  This results from pinching off the flow of air before finishing a sentence, delivering the last syllables in a kind of grind.
Second, Dr. Cuddy engages frequently in uptalk.  This is a verbal tic that pronounces declarative sentences as if they are questions or as if they are statements in doubt.  It consists of running the last word or syllable in a sentence up in tone instead of letting it drop decisively.  The difference to the ear is dramatic, with uptalk conveying self-doubt, indecision, a quest for validation.
Third, Dr. Cuddy unconsciously laces her talk with words such as "like" and "you know" as filler.  Perhaps to maintain a steady drumbeat of verbiage?  Who knows the reason people use these crutches.
Eliminate these fillers from your own talks to gain power and decisiveness.  Instead of fillers, use silence.  Develop the technique of pausing instead of filling every second of your talk with noise.
And so . . . learn the lessons of power posing and engage them in your presentations to imbue them with energy.  But eliminate the verbal tics that can leech away that energy from your talk.
For more on power posing and the confidence you can gain, consult The Complete Guide to Business School Presenting.