Given that this election year has seen a raft of awful would-be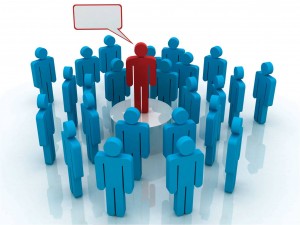 presidential presenting, I devote to this space the second evaluation of the two political parties' nominees.
In this case, the winner.
President-elect Donald Trump offers one of the strangest speaking styles I've ever witnessed on the public stage.
It combines odd gestures, rhetorical discontinuities, and counter-intuitive inflections to flummox even the most partisan viewer.
I said in another space six months ago that Mr. Trump could be our first post-modern candidate.  Nothing has changed that would cause me to modify this observation.
His repetition, flights of fancy, strange interjections at inappropriate moments, and infuriating inability to complete a thought all combine with a menu of off-putting gestures.
Gestures for Presidential Presenting?
Mr. Trump, like all public speakers, has a go-to gesture that sustains him on the stump.  President Obama's go-to gesture is the "lint-pick."
He uses with aplomb and quite often.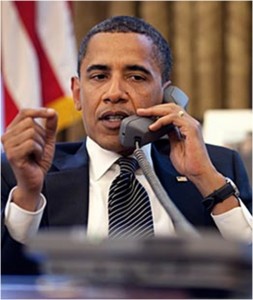 The "Lint Pick" is an excellent choice to exhibit precision and attention to detail.  It gives the impression to an audience that you are sharing something minute yet important.
You cull out the telling point that brings everything together, and Mr. Obama has adopted this for his personal brand.
Mr. Trump's signature gesture is what someone in a national magazine labeled the "Dainty Mobster Thing."
In an Atlantic article by James Parker, the author observed Mr. Trump's "dainty mobster thing he does with the thumb and forefinger of his right hand."
Dainty Mobster is simply a version of the Lint-Pick that we've seen the President and many others use for years.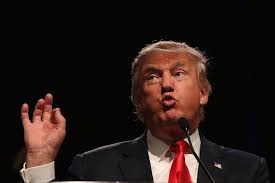 This version, however, is certainly something I've never seen anyone else use except occasionally and to a specific purpose.
Mr. Trump uses Dainty Mobster repeatedly.
When we talk about public speaking, particularly that with a high stakes element, it's always useful to go to the film to evaluate the product.
So, let's have a look at a speech that I annotate to call attention to speaking tics that detract from the public presentation message.
Aspiring speakers should not imitate this particular style, although unique it may be and with seemingly grandiose results.  Nor should one imitate the opposing candidate, Mrs. Clinton, as we saw in our previous post.
In fact, few political figures in our time offer styles that can teach us much of anything.  One of the few articulate speakers of a new political generation is Florida Senator Marco Rubio, but his is an occasional case.
For especially powerful speakers worthy of emulation, the finest Hollywood actors offer us a strong example of how to combine emotion with substance in a powerful persuasive performance.
But then, that's exactly what they're paid to do.
For more on powerful presentations, consult the book The Complete Guide to Business Presentations.